UberEATS - Review & Install Links
Sponsored Links
Uber Eats: Local Food Delivery is a relatively new food delivery service by the worldwide taxi leader, Uber. Similarly to the original taxi app, it lets you make orders from the nearest restaurants in your area that cooperate with Uber and get them as fast as possible. Uber Eats helps me out very often, If I don't have enough time to leave the office for lunch. No matter what kind of foods you like, Uber Eats will bring it if it's available in your area. It's already available in all megapolises and hundreds of big cities in over 20 countries. You can check out the availability via the app.
Features – 10/10
Uber Eats: Local Food Delivery is probably the simplest way to order foods from local restaurants. Although the vast majority of networks have their own delivery services, their coverage is sometimes not broad enough. At the same time, many small restaurants don't deliver at all, so Uber Eats appears to be a universal solution if you're tired of the sameness of large networks. In a convenient browser, you will find everything from junk food to exquisite dishes by different cuisines of the world. It's also a way out if you prefer to eat something rare or dietic. When you make your choice, the app displays the approximate time, the full price (including the tax and taxi fee), and the way of your lunch in real-time.
Ease of Use – 10/10
With Uber Eats: Local Food Delivery, you can forget about any kind of delivery issues. If it's available in your city, it will reach nearly any area and please you with hot meals. However, you have to consider the time of the day and the distance from the restaurant to get your dishes on time. It also costs as the average taxi. At this point, such restaurants as McDonald's, KFC, or Pizza Hut are cheaper to order via dedicated apps. If you are accustomed to making the same order from time to time, you can make it quicker via the history tab where all your previous orders are stored.
Design – 10/10
Uber Eats: Local Food Delivery appearance is very similar to the eponymous taxi service, so you won't notice almost any difference. The food browser lets you search by the type of cuisine, a specific dish, or look at what's in your favorite restaurant today.
Features Review
Pricing – 9/10
Uber Eats offers relatively low prices on food delivery if you want to order in restaurants that don't have their own services. I can't recommend it for making orders in big networks that have their own services that are usually cheaper or totally free.
Pros
Available in over 20 countries;
Real-time delivery tracking;
Works with the majority of restaurants in your city;
Automatic payments enabled;
Cons
Some proprietary delivery services are cheaper;
Usually unavailable in small and medium towns;
Summary
Uber Eats: Local Food Delivery is a key to making orders in your favorite restaurants remotely and taste the best cuisine no matter where you are. Pay the price of an average taxi, and get your delivery anywhere around the city.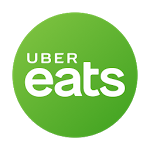 UberEATS
jansjoyousjungle.com is not an official representative or the developer of this application. Copyrighted materials belong to their respective owners.
Warning: Users can download the app from the links following the Official Website and legal digital markets.
Uninstall the app:
Go to Settings menu
Choose Apps or Application manager
Touch the app you want to remove
Press Uninstall
Our main goal is to provide full and useful app reviews. If you have something to add - write to us.
Disclaimer
1. All review texts and other contents are original. All reviews and images of applications are subject to the copyright of jansjoyousjungle.com editorial team and may not be copied without naming. Some of the brand names, logos and screenshots are used in order of qualified relationship.
2. All the information on this website is strictly observed all the terms and conditions of
Google Ads Advertising
policies,
Google Unwanted Software
policy and
Microsoft Advertising
policies.
3. We provide the official download links to legal sources like official websites, and Apple and Google Stores.
Besides, the soft you're reading right now:
1. Is an app for Android & iOS devices;
2. Will not change any system settings on your smartphone.
You can get more information via the feedback form on the
disclaimer page
.