My Talking Angela - Review & Install Links
Sponsored Links
Do you remember the hit voice-warping game Talking Tom? My Talking Angela is another mainline game by Outfit7 Limited! It's also about interacting with a talking cat, but this time you play with the sweet cat Angela who's not as keen on nasty jokes as Tom. The gaming app combines multiple mini-games to let you have fun playing My Talking Angela every day. It's an excellent cute time killer for adults and an exciting entertainment hub for children.
Plot – 10/10
My Talking Angela is based on the Talking Tom concept but offers you to experience a galaxy of new actions and items. You can dance along with Angela, feed it, put it to sleep when it's tired, ask it to show various random emotions, and take it to the bath when you want. In the dressing room, you can try on various dresses and accessories, including skirts, suits, wigs, glasses, lipsticks, makeups, and other beautiful things. You can gather a collection of items playing every day and unlocking them for watching videos and inviting your friends to download the game. Apart from playing with the cat, you can go to the mini-games section and kill some time playing some classic arcades. I usually start playing them to achieve some extra coins to buy something within the game.
Controls – 10/10
Playing My Talking Angela is very simple, as you only have to tap buttons and move some objects to play. All the actions are totally intuitive. If you don't understand how to do something, the game with show a tip after you make a few mistakes.
Design – 10/10
The latest version of My Talking Angela features slightly upgraded graphics and the same style of arts as in My Talking Tom. However, the interface design was reworked to be more glamorous and match Angela's cute muzzle.
Features Review
In-Game Purchases
My Talking Angela is a free-to-play mobile game, but it includes several types of in-game purchases. First of all, you can pay to disable ads in the online game. There are too many ads in the game, so I recommend you to get the ad-free version if you want to get online benefits. If not, just turn off the Internet to disable online ads. If you do that, you will get an option to record unlimited videos with Angela every day. Moreover, you can buy packs of cosmetic items for dressing up Angela. The premium monthly subscription costs $4,99 and provides exclusive cosmetics, unlimited energy for playing mini-games, and a bunch of other features. You can disable subscriptions in your account settings anytime.
Pros
Stylish game for kids and adults;
Plenty of new things to do with Angela;
Simple controls and improved interface;
No toilet humor of Talking Tom;
A wide range of cosmetics;
Cons
Too many ads if you play online;
Only 4 free mini-games per day;
Premium features aren't permanent;
Summary
Tired of Talking Tom's silly jokes? My Talking Angela is a great alternative! This elegant kitten has a lot of exciting hobbies and games for you to play during the day. Dress it up and dance along.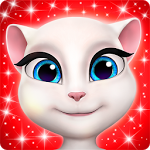 My Talking Angela
jansjoyousjungle.com is not an official representative or the developer of this application. Copyrighted materials belong to their respective owners.
Warning: Users can download the app from the links following the Official Website and legal digital markets.
Uninstall the app:
Go to Settings menu
Choose Apps or Application manager
Touch the app you want to remove
Press Uninstall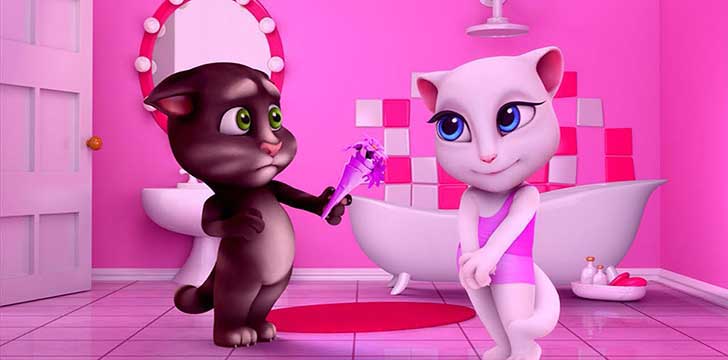 Our main goal is to provide full and useful app reviews. If you have something to add - write to us.
Disclaimer
1. All review texts and other contents are original. All reviews and images of applications are subject to the copyright of jansjoyousjungle.com editorial team and may not be copied without naming. Some of the brand names, logos and screenshots are used in order of qualified relationship.
2. All the information on this website is strictly observed all the terms and conditions of
Google Ads Advertising
policies,
Google Unwanted Software
policy and
Microsoft Advertising
policies.
3. We provide the official download links to legal sources like official websites, and Apple and Google Stores.
Besides, the soft you're reading right now:
1. Is an app for Android & iOS devices;
2. Will not change any system settings on your smartphone.
You can get more information via the feedback form on the
disclaimer page
.